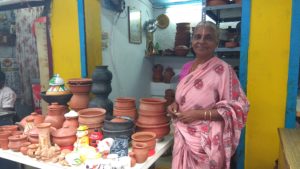 S.Kausalya, a 70-year-old resident of Mylapore has opened a pottery shop at Chitra Kulam West Street, Mylapore. She had started her business this year during the Panguni Festival at Sri Kapali Temple.
After settling all her daughters and sons, she was determined to live for herself.
During the festival, she said,"I find happiness in meeting new people. Hence, I thought of selling something useful."
But after some time, she has faced difficulties to run the shop. She says, "I was selling on the pavements off Kutchery Road and East Mada Street. But, very often I was asked to vacate. So I had to stop selling for a while."
A month later, after seeing her interest and determination, his son and daughter-in-law arranged this shop for her at Chitra Kulam West Street."And my relatives are helping me to get the supplies," she says.
Now, she is hopeful to run a good business and be on her own.
She sells earthern pots, diyas, tumblers, Jadis and more. Pots are priced in the range of Rs. 30 to Rs. 100 depending on the size. At Chitra Kulam West Street, Mylapore. Opposite to Arrvee pharmacy. Ph:9962399228.