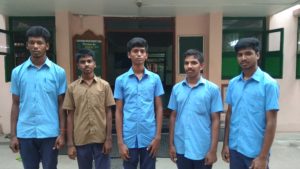 This year, as many as 140 students from Polytechnic College of Ramakrishna Mission Students' home, P.S. Sivasami Salai got placed in various core companies. And the college saw 100% placement as always.
"In addition to the regular companies, new companies are increasingly placing them impressed by their behaviour, discipline and overall personality development," says M.Sukumaran, principal of Polytechnic college.
And for the first time, four boys – S.Goutham, P. Partheeshwaran, A. Selvakumar and P.Saravanan have been placed in EASi (Allegis group), a product development company based in Banglore.
"Usually, the product development companies take Engineering students. But this year, after understanding that engineering students were not industry ready. The EASi company decided to give a chance to diploma students," he says.
"They visited our college to know about our syllabus and teaching methodology. They were very happy with our Gurukula system. Later, after interviews, they selected four students," he says.
"Apart from this, companies like Ashok Leyland, TVS group, TATA Advanced systems and L&T group also take our students regularly. They are all very happy with the work of our old students, who are currently working there. All have got fast track promotions too," he says.
On May 3, it was time for the boys to leave the student's home and join their respective companies.
"It is the happiest day of my life. My mother is also very happy. That's the only thing I have always wanted," says S.Goutham, a student who got placed in EASi.
Even though it was the happiest day of their lives, the boys were sad as they had to leave the students' home."We have been staying here for many years sharing everything with the teachers and friends. We have got lots of memories with us. We will miss everything about this place," the boys said.