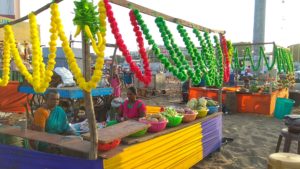 This summer, for the first time, a few bajji sellers on Marina beach have switched to plastic items to decorate their stalls.
For years, they have been using Bangalore molagas (chillis) which are used to make the snack for decoration purposes too.
This week, some 10 bajji stalls were decorated with colourful plastic garlands. Some had also used plastic molagas for decoration. P. Sivamati, a bajji seller, says she has started this trend here.
Sivamati, who claims to run her bajji shop for two decades says, "The prices of Bangalore molagas have almost doubled. A few months ago, it was Rs.40 per kg. Now, it is Rs.150 for a kg. So I didn't want to waste the molagas for decoration. Also, the molagas used for decoration aren't suitable for cooking."
She adds,"Every year the prices would go up during summer. But this time it has peaked."
A. Ajith, who has his bajji stall near Sivamati's also got inspired by her idea and has implemented the same."Even in the Koyembedu market, they are selling molagas for Rs 100. The vendors say they are not getting enough supply. We now save the molagas used for decoration and use them to make the snack," he says.