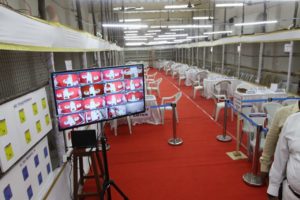 Election Commission officials say that everything is in place for counting of ballots cast in Elections 2019 for the Chennai South constituency at the centre at the College of Engineering campus in Guindy.
On Thursday, a final review of the arrangements were made and the media was taken around to show all that has been done for May 23 when counting will take place.
Three tiers of security are in place around the rooms where the systems (AVMs) have been stored after election day – April 18.
Security is also in place inside and around this college campus.
Similarly, Queen Mary's College is also secured; this is the counting centre for ballots cast in Chennai North constituency.