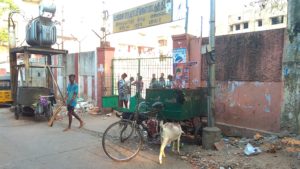 The entrance of Chennai Corporation's playground at Ramakrishna Puram, Mylapore has turned into a garbage dumpyard. Garbage, food waste and construction debris are seen in front of the ground.
The colony's youth say they are not able to enter this space due to this messy environ.
The entinre colony with more than 500 families doesn't have a waste bin. The Corporation's private conservancy team has placed two tricycles (used for garbage collection) at the entrance gate of the ground – to serve as the dump place."But people don't bother to put the waste inside them. They just throw stuff near the tricycles," says S. Karthik, a youth of this area.
Also, the boys say the tricycles are not enough for their colony. "When there is no space inside the tricycle, people just dump it on the ground," he says.
"Earlier, the garbage used to pile up even inside the ground. So we had to lock the gate to avoid people from dumping the garbage inside the ground. Now, we open only if anyone wishes to play here," he says.
Opposite this ground is Chennai Middle School of the ward 124. "The school children also never enter this ground," he says.
The local youths say they have complained several times to Chennai Corporation officials about their civic problems. " They constructed a gate for the ground after repeated requests. But now, since the tricycles are here the residents have started dumping the waste in front of the gate," says Karthik.
Every morning, when the conservancy workers take these tricycles for garbage collection, people dump even more waste near the gate since there is no other bin placed here," says K. Goutham, a youth of this colony.
"On Sundays, it is really really messy because the whole area is filled with the food leftovers," says G.Rajesh, a resident.