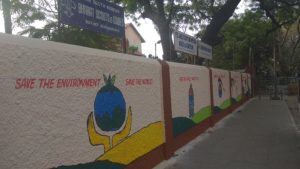 On April 27, the volunteers of Karam Korpom – SAPS (Stop Abusing Public Spaces) and 30 students and staff of P.S. Higher Secondary School joined together to paint the long wall at the entrance of this school off R.K.Mutt Road, Mylapore.
The paintings made were with themes of environment protection, water conservation and solid waste management.
"The principal of the school was very keen to make the wall and the pavement clean. There was a TNEB junction box and two-wheelers were parked along the whole stretch. People were urinating and dumping garbage near the junction box. So the school approached us for help," says V. Uma Maheshwari, one of the organisers of Karam Korpom.
"With the help of conservancy workers, we cleaned the place. Later, our volunteers and students of P.S.School did the painting," she says.
Karam Korpom is a trust that works towards environment protection through various activities such as community wall arts, awareness programmes and knowledge sharing sessions. They have completed 27 wall arts around the neighbourhood till now.
"At all the places we see to it that the local community is involved in doing the wall art so that they can be sensitised towards keeping the place clean. This will also help in maintaining the place in the same way," she says.
If your community wishes to do wall art at nearby abused places, contact Karam Korpom at 98840 32182 or visit their facebook page www.facebook.com/sapschennai/.
The trust is located at 14, Third Floor, Vikram's Nest, Vinayagam Street, Mandaveli.