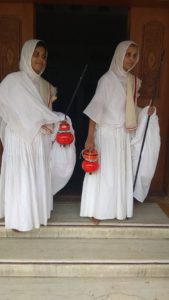 The Chaturmas Pravesh – the entrance of saints inside the Jain temple off Kutchery Road as a part of the five-month-long Chaturmas festival will start on June 20. To mark this, a grand procession will take place on this day in the morning. The actual festival will start on July 17.
The entrance of the temple on Mathala Narayanan Street is now decorated with a colorful pandal for the festival.
"Though it is called chaturmas (four months in Sanskrit) we celebrate for five months," says Ashok Kumar, a member of the Jain Community.
"During this festival, the men and women saints (sadhus and sadhvis) from different parts of India will come and stay at the temple for five months. According to our belief during the winter season, the saints are not supposed to travel to different temples. This is practiced to avoid stepping on small creatures that come out during this season. Hence, they stay here and do their regular sadhana (practice)," he says.
On June 18, the Sadhvis who were returning after collecting their afternoon food (biksha) told they would go to the Jain temple at Sowcarpet for this chaturmas.
"On the 50th day (last week of August) of the festival, Paryushan the most important eight day festival of our community will start," says Satish Kothari, another member of the community.