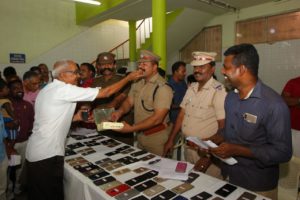 On June 18 morning, the crime branch of the Mylapore Police station handed over around 100 mobile phones to the respective owners after successfully tracking them with the help their special team.
The event happened at Sri Raja Kalyana Mandapam off Kutchery Road, Mylapore.
A special team headed by the Mylapore DCP N. M. Mylvahanan tracked the mobile phones that were lost in the zones of Mylapore, Royapettah and Kotturpuram.
"We first track the mobiles with help of IMEI number. Then we send that number to all mobile service providers via mail. They intern locate the exact address of the phone and inform us the contact details of the person who has the mobile,"says M. Loganathan, Head Constable of the special team in Mylapore zone.
K. R. Jambunathan (shown in picture) , a long-time Mylaporean was so happy to receive his mobile phone that he had brought sweets(jangri) for the Police who found them. He also fed the sweets to the officers.