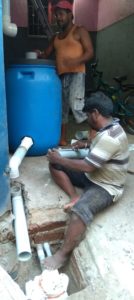 After realizing the benefits of borewell recharging through rainwater harvesting (RWH), M.Sasikumar, a resident of Bazaar Road, Mylapore, has constructed a temporary rainwater harvesting (RWH) structure for recharging his borewell.
At the time of acute water crisis, Sasikumar, the owner of Sri Karpagambal Kapali sweets stall at Mathala Narayana Street says the RWH structure which he constructed a few years ago for one of his two borewells is their only source of water apart from the dwindling Metro Water supply that is coming through their pipes.
"We had done RWH for one of the two 60 ft deep borewells in our apartment complex. Now the one with RWH has 25 ft of water left and that is helping us till now. But the one without RWH has only 8 or 9 ft of water. So I'm doing RWH for that one also."
Now, to make use of the rain that has started falling during this monsoon season, this past week, the temporary structure was under construction at the car shed below his apartment complex."The water from our 1800 sq ft terrace will get collected at a barrel (400 liters capacity) after cloth filtration. Then it will be sent directly to our borewell through a PVC pipe. Further filtration will take place at the mesh filter before entering the borewell pipe," he says.
Sasikumar says he saw this model in a WhatsApp video and wanted to implement it as it was an easy and cost-effective method."The structure requires a barrel which costs Rs. 800 and a few PVC pipes and bends. I spent around Rs.4500 for its construction (materials and labor charge)," he says.