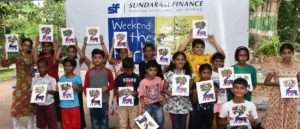 On June 29, Sundaram Finance (SF) organized a 'Gond Art' (a form of folk and tribal art) workshop for children as a part of its 'Weekend at the Park' activity.
Around 25 children took part in the workshop which was held between 3 p.m. and 5 p.m. at the Chess Square of the Nageswara Rao Park in Mylapore.
All art materials were provided by SF. The children were taught the art of using fine lines, and dots to create a pattern or design of their choice.
'Weekend at the Park' is a quarterly activity conducted by SF in order to encourage children to come out of the confines of their homes and to use the open spaces in the park creatively.