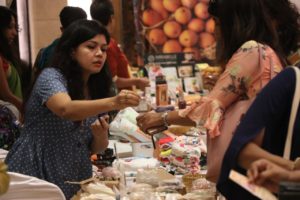 On June 19, the first edition of Naturally Chennai organized by the Green Goddesses took place at first floor of Savera Hotel, Dr.Radhakrishnan Salai, Mylapore.
The Green Goddesses – Nina Reddy, the Joint Managing Director of Savera Hotel,  Anju Agarwal, Preethi Thiagarajan, Jayashree Vivek, and Manju Mudit organized this event with an aim to make Chennai a clean and green city.
"We call ourselves as green goddesses so we can feel empowered to inspire more people to lead an eco-friendly life," says Nina Reddy.
The green goddesses team brought in D. Suresh popularly known as 'Solar Suresh' to share his experience and tips of creating an eco-friendly house.
Throughout the day free workshops on composting, vegan cooking, gluten-free baking, dairy-free alternatives, recycling of waste were demonstrated to a packed audience.
An exhibition of eco-friendly products was organized. Organic soaps, fruits, and vegetables, cloth bags/bags made of paper waste, vegan free snacks and more were exhibited across the 43 stalls that were put up here.
"We are also committed to holding such initiatives in schools and colleges," said Nina.