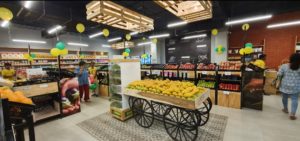 Sunny Bee, a chain supermarket opened an outlet on TTK Road, Alwarpet, opposite St.Francis Xavier Children's Home. It is focused on sourcing and selling fresh fruits and vegetables directly from the farmers.
"Our main idea is to uplift our farmers. It is found that 40% of vegetables/fruits are spoilt during transportation from farm to the city. So in order to avoid that loss to the farmers, we bring the items within 12 hours of collection. We have tied up with around 25,000 farmers' association for this process," says S. Thiyagarajan, general manager, retail operations, Sunny Bee.
"As a part of our CSR (corporate social responsibility), we regularly organise events like sandhai (farmer's market) where some 100 farmers participate, and every month we take our customers and employees to the farms so that they can directly buy from the farmers," he says.
"Rare fruits and vegetables will be available here and the customer service is very good," said Satya, a regular customer of Sunny Bee.
New arrivals at this store are a variety of organic mangoes, Italian and Asian ready to cook food items. This is in addition to a variety of fruits and vegetables.
At 554, TTK Road, (Lalah's office building, near Hotel Crowne Plaza), Alwarpet. Open on all days from 7 a.m. to 10 p.m. Ph: 092092 88855
Photo courtesy : Sunny Bee