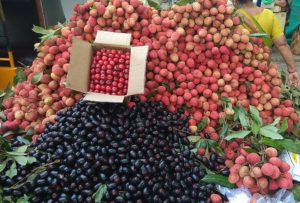 The seasonal fruits lychees, black plums (naval pazham/naga pazham) and cherries have arrived at the markets and hawker stalls of Mylapore.
This past week, women were delighted to see naga pazham at Srinivasan's roadside shop opposite to Sangeetha Restaurant in R.A.Puram.
Sita was very happy as her mother picked up some naga pazhams."My mother prepares tasty sorbet. I'm excited to have them," she said.
Naval pazham is priced at Rs. 200 per kg. Litchi and cherry are priced in the range of Rs 200 to 250 for a kg at Srinivasan's shop.
Srinivasan says, "Due to the low rainfall, the supply of the fruits has been less and hence the prices are high."
The fruits are also available at the mada streets around Sri Kapali Temple.