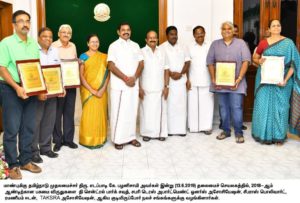 A residents' association in Mandaveli has been given an award for cleaning up its area and sprucing up its environment.
TAKSRA which represents the community of Thiruveedhi Amman Koil Street was given the award by Tamil Nadu chief minister Edappadi Palaniswamy at a function held at the Secretariat on Thursday.
Representatives of TAKSRA received the award which was shared with four others who were also acknowledged for their work in maintaining their neighbourhoods.
TAKSRA has made efforts to clear the street of vehicles and waste dumped here, nurtured greenery alongside the street, collaborated with a  private group to get the walls painted with visuals and encourages reuse and recycling of waste.
Its effort has drawn people from across the city to study the process and try and replicate it in their backyards.