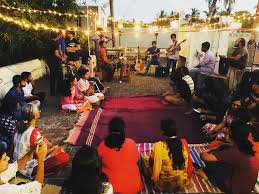 The event is called Motta Madi Music. Concerts held on terraces. The uniqueness is that a bunch of amateur but talented youngsters, singers and musicians choose a theme for the concert and allow their guests to sing along.
The Motta Madi Music concert has come to Mylapore and the terrace of R. R. Sabha is hosting a show on Saturday evening. The focus of this show is on singer S. P. Balasubrahmanyam.
The shows are free but admission is restricted. And the Mylapore show is sold out. "Registrations got over in just 5 minutes after we opened it online," says Sudharma Vaidhaynathan who runs the Spoonfeed Restaurant on the terrace of this sabha complex.
The show is also an effort by Sudharma "to draw more diners from beyond Mylapore" to her restaurant.