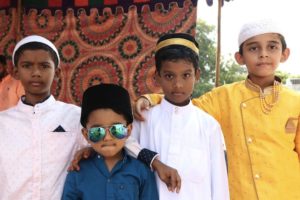 Muslims of the neighbourhood headed to their local mosques to celebrate the festival of Id-ul-Fitr this morning.
The celebration rounds off the long season of fasting, prayer and works of charity that the community observes. The season ends with a remembrance of the time when God revealed the holy Koran to the prophet.
The Jumma Masjid on Kutchery Road was packed this morning as Muslims gathered here for prayer. Later, they exchanged greetings and for lunch, families sat down to partake the specials of the day.