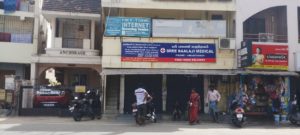 Three shops, a pharmacy, a bakery and a vegetable shop and a doctor's clinic on Madha Church Road, Mandavelipakkam (off San Thome High Road) were broken into by burglars a couple of hours after midnight on June 18 morning.
S. James, who owns a fancy shop right next to the pharmacy and the doctor's office says, "I usually open my shop at around 7 a.m. Today when I came in I saw that the locks on the pharmacy's shutters were broken. I immediately informed the staff at the pharmacy. Later I found out that a bakery and a vegetable shop down the street was broken into too".
Police officials were seen talking to the staff and owners of the shops today morning. A case has been registered. They have also asked for CCTV footage from apartment complexes nearby.