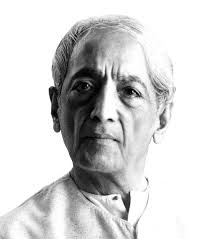 VARIETY
SCREENING OF JIDDU'S TALK
A recorded talk by  philosopher J. Krishnamurthy will be screened at KFI Vasanth Vihar, Greenways Road on 9 June at 6 p. m. The talk  is  on 'Relationship of Health to Freedom'. Open to all.
CELEBRATING 'KATHADI' RAMAMURTHY
Humour Club International Triplicane  Chapter  will hold  an event 'An Evening of Laughter'  on June 9 at 4 p.m.  This is a special programme to  felicitate  actor Kathadi Ramamurthy on the occasion of his sathabishegam celebrations and long innings in theatre. It will be followed by a Thamizh play 'Dowri Kalyaaname Vaibogame' directed by Visu – at 5.30 p.m. At TAG-Mylapore Fine Arts Club auditorium, Mylapore  4 P.M. Open to all. For details call Kannan – 9841532212.
FOCUS ON FITNESS
Get a series of health tips at the Global Wellness Day event at Leela Palace hotel on June 8. The session will start with yoga in a garden and followed by breakfast.  Later hair stylist Kevin Murphy will give  hair tips at The Salon. The sessions ends with an aqua fitness and thermal experience followed by lunch and detox drinks. Paid event. 7 a. m. onwards.  Call 30958077.
MUSIC. COMEDY
CLASSICAL MUSIC CONCERT
Classical music concert by  'Embassy of Musical Mastery . The event is being held to celebrate the National day of Russia. On 14 June. At  the Russian Centre of Science and Culture , Kasturi Rangan Road, Alwarpet. Contact 24990050.
MADURAI MANI IYER's  MUSIC
MMI Rasikas Association presents Madurai Mani Iyer Remembrance day with a guided listening session, lead by Vishnuram Prasad on June 8. There will also be a special 'anecdotes' session. At P. S. High School, Mylapore, 4.30 p.m.  Open to all. For details call 9841313527.
ON PALGHAT MANI IYER
Carnatic music maestro Palghat Mani Iyer's birth anniversary  will be celebrated  on  June 10. The Palghat Mani Iyer Puraskar award will be presented to  mridangam vidwan Umayalpuram B. Sivaraman. Vidwan T. K. Murthy will preside and present the award. This will be followed by a vocal concert by T. N. S. Krishna. He will be accompanied by B.U. Ganesh Prasad(violin), Umayalpuram Sivaraman (mridangam), N. Guruprasad (ghatam). At Srinivasa Sastri Hall, Luz. 6 p.m. Open to all.
COMEDY
Deep Chhabria and Anuban Dasgupta will tickle your bone with their latest  comic fare on June 9 at 8 p.m. At 16, 1st Cross Street, Co-operative Colony, Sri Ram Nagar, Alwarpet. Ticketed event. Call 8220832419.
WORKSHOPS
SALADS
Whip up a Mexican bean salad and a Hawaian Poke and more such at this workshop. At Kase, Sriram Colony Abhiramapuram. From 10.30 a.m. to 2 p.m. For details call 9176221898. Paid event.
ON IPR
Women Entrepreneurs India is organising a workshop on 'What you should know about Intellectual Property Rights' on June 8. The event is at Raj Park, T.T.K. Road, Alwarpet from 2 p.m. to 6 p.m. Call 9952013800 to register.
CHALK LETTERING
Basic techniques of lettering on a black board shared at the Chalk Lettering workshop on June 8, from 2. 30 pm to 5.30 pm . At  the Madras Art Store, Mookambika Complex, Alwarpet. All materials will be provided. Prior registration is required. Contact: 97909 95771. Hosted by Hindustan Trading Company.
EXHIBITION
TRADITIONAL LAMPS
A traditional lamps exhibition and sale is on at Giri Trading Agency at Kapaleeswarar Sannadhi Street, Mylapore. Brass lamps of different sizes and designs are exhibited here. Kuttuvillaku, Nanda lamp, Navagraha lamp and ornamental lamps are on sale. On till June end. Open from 9 a.m. to 9 p.m. Contact: 24640376, 24642530.
EATING OUT
NORTH INDIAN SPECIALS
This Golden Triangle food festival at Hotel Savera hosts food of Jaipur, Agra and from the famed dhabas of Delhi; menu prepared  by chef Shailendra Rana. On till June 9, dinner. Call 9710947347 for reservations.