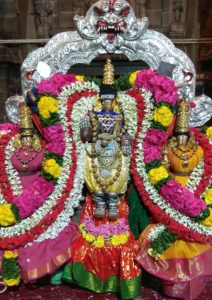 On July 26, Aadi Krithigai, a festival dedicated to Lord Murugar took place at Sri Kapali Temple, Mylapore.
A special abhisekham and deeparadanai was performed for Lord Murugar.
In the evening the utsava moorthy of Lord Murugar and Goddesses Valli and Deivanai, decorated with beautiful garlands and ornaments was placed at the navaratri mandapam for devotees to pray.
Later after 8 p. m., the deities were taken out in Mayil vahanam around the mada Streets.
Many devotees gathered at the temple to get a darshan of these deities on this auspicious occasion.