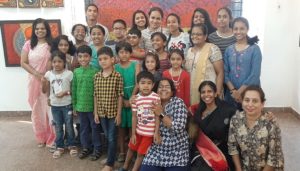 On June 22 and 23, the space at C. P. Art Center was filled with the colourful works of the students of Alwarpet based Kalakar Studio. It was the art school's fifth annual art exhibition.
Over forty budding and established artists aged five to seventy years displayed their work at the exhibition. The theme this year was butterflies and rainbows. Crayons, pastels, poster colours, acrylics and several other mediums were used at this art show.
Komal Savla, who has been teaching art for over fifteen years, runs this studio. Contact her at 9677052044.