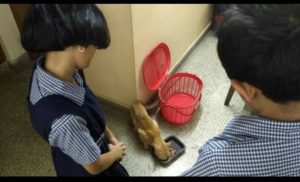 The happiness level of the Pinto family of Abiramapuram has shot up this past week.
Reason?
Their pet cat named Ola which wandered off from their apartment and was considered lost has been found and is back with the family that considers it its own.
A local autorickshaw driver who heard about the missing cat located it in the area and brought it back to the Pintos.
Since the day Ola took a long walk, its owner, lawyer-columnist Sanjay Pinto has been posting his thoughts on his social media page which attracted a variety of comments – from experiences with cats to tendencies of gallivanting male felines, from sane advice to dark humour.
Sanjay said he even prayed for the cat's return. Those prayers seem to have been answered.
'Mylapore Times' receives mails on 'missing pets' once in a while and the weekly puts out these stories; some owners have managed to trace their pets while others have resigned to their warm memories.