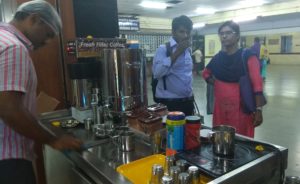 Recently, IRCTC (Indian Railway Catering and Tourism Corporation) has introduced two food stalls at the Thirumayilai MRTS station off R.K.Mutt Road, Mylapore. Now, commuters can quickly grab a coffee and snacks at these stalls before boarding their trains.
The stalls are near the entrance of the station diagonally opposite the ticket booking office. One shop sells filter coffee, tea, sukkumalli pal and snacks like biscuits and chips. The other shop sells sweets, savories, and bakery items.
Regular commuters welcome the initiative. Saraswathy, a commuter says, "I board a train here every day. Since my house is at Madipakkam, it takes nearly 40 minutes to reach home. I will be starving till then. Now I will be able to buy a biscuit packet before boarding and have them while travelling."
"Since a long time, there were no food stalls here. Opposite to this station too there are no tea shops. Hence it will be very helpful for a large number of people who use this station," says Kandan, a commuter.
Vasan, who runs the coffee shop here says," Since our shop 's opening coffee and tea are selling fast. We are also planning to introduce vada, bonda and juice varieties soon."
The coffee shop is run by South Indian Coffee house and Coimbatore based Meenakshi catering service. The bakery item' s shop is run by Hotel Poorna Sree, which has been working at Beach and Nungambakkam MRTS stations since a few years.
Coffee and tea are priced at Rs 15 and 12 respectively. They are available with nattu sakkarai too.