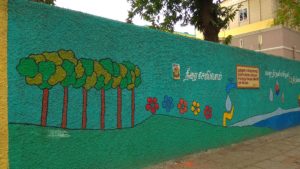 Recently, volunteers of Karam Korpom – Stop Abusing Public Spaces (SAPS) and students of St. Francis Xavier school joined together to paint the wall of this school at TTK Road, Alwarpet. Around 45 people participated in the wall painting activity.
The paintings were made with the aim of spreading awareness regarding water conservation, and art forms like Bharatanatyam and yoga.
Unlike the other wall painting activities where the community/school funds for the painting, this time Karam Korpom has funded for the entire painting work.
"Selva, one of the school's alumni organized this activity. He told us that the school would not be able to provide sufficient funding for painting. But the school was very keen to paint the walls to bring some awareness among the children regarding water conservation. Hence our donors and some of my relatives sponsored for the activity," says V. Uma Maheshwari, one of the organisers of Karam Korpom.