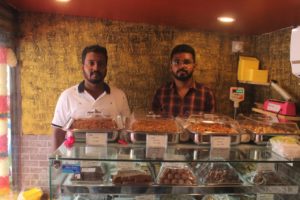 Recently, Kamarkattu, a small shop that sells karupatti sweets, and millet savouries has opened off R.K.Mutt Road, opposite to P.S.Higher Secondary School, Mylapore. It is a unit of Namakkal's Sellappa Sweets that was started in the year 1986.
Two food lovers – Chandru and Carthic, have started this shop to introduce organic sweets and savouries to the people of Chennai. "People are increasingly switching to healthy food habits and hence we are determined to give them the same with good quality and taste," they say.
The sweets and savouries at this shop are made of ingredients with healthier alternatives. "All the sweets are made up of either karupatti or nattu sakkarai. And savouries are made of millets like ragi, and kambu. Products like palm oil, maida, artificial colours, flavors, and preservatives are completely avoided," says Chandru.
"For the preparation of savouries, cold-pressed oil (chekku ennai) or ghee made of A2 milk (cow's milk) is used. And our products are made with the palm jaggery that is obtained from our farm in paramathivelur village near Namakkal," he adds.
Kamarkattu, also called vintage candy (healthy and famous snack during the 80s and 90s) made of palm jaggery and coconut pellets is the trademark item at their shop.
The duo, who are engineering graduates from Namakkal say that in addition to sweets that were traditionally sold at Sellappa sweets in Namakkal, they introduced savories made of millets when they first started their brach at Anna Nagar in the year 2018.
Hand-ground (ural iditha) sweets – kadalai urundai and ellu urundai, are also available here. "These will be much softer since they are made organically," he says.
The shop also sells karupatti, nattu sakkarai, organic honey, cookies made of millets and vadams.
Special sweets at this shop are kamarkattu, shop's signature item – paper sweet (Andhra based sweet made of nattu sakkarai), karupatti – Mysore Pak and halwa. Millets made of kaikuthal (hand pound rice varieties) – thinai ribbon pakoda and kuthiraivalli murukku are also fast-moving at this shop.
Subhashini, a resident of  T.S.V Kovil Street says, "I like their ragi mixture and cookies very much."
Kamarkattu (250 g) is priced at Rs 150. Kuthiravalli murukku (250 g) is priced at Rs 100. All the other sweets are priced in the range of Rs 600 to 800 per kg. The shop also does door delivery within 5-kilometer radius of Mylapore. The owners have been running four branches across the city. Now, both are staying at Mylapore to take care of the business.
At 51, R.K.Mutt Road, below Kovai Palamudhur Nilayam, Mylapore. Open from 9 a.m. to 10 p.m. Ph: 8940936989, 9751914818.