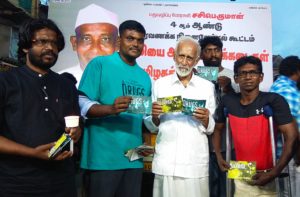 On July 31 evening, to commemorate the fourth death anniversary of Gandhian and anti-liquor activist Sasi Perumal, his followers held a tribute meeting at Mangolai in Mylapore.
During the meeting, they stressed on the importance of prohibiting liquor in Tamil Nadu – a cause for which Salem based Sasi Perumal was protesting for more than four decades.
"He also held a hunger strike in Mylapore for over 30 days. He died on July 31, 2015, near Marthandam in Kanyakumari after staging a demonstration on a telephone tower for the removal of a TASMAC outlet in that area," says V. Sundar, the organizer of the meeting.
Palam Kalyanasundaram, a social worker known for donating his entire life earnings for the needy, was the chief guest at the meeting.
The organizers distributed booklets on the harmful effects of drugs and alcohol to the public.They also lighted candles and paid floral tributes to the portrait of Sasi Perumal.
The meeting, however, created occasional traffic at North Mada Street.