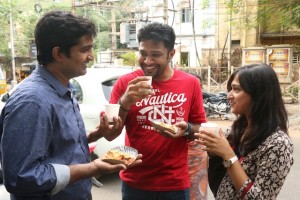 MADRAS DAY EVENTS
OLD MADRAS PHOTOS
An exhibition of rare pictures of  'old' Madras is now on at the gallery of the C.P.R. Institute of Indological Research in Alwarpet. On till Aug. 31. 10. a.m. to 6 p.m. This place is on Eldams Road. Open to all: schools groups are invited to visit.
TALK: ELEPHANTS IN MADRAS
A talk on 'Elephants in Madras' will be given by Venkatesh Ramakrishnan. On Aug. 24, 10.30 a.m. At C. P. Ramaswami Aiyar Foundation, Alwarpet. Organised by CPR Institute of Indological Research Eldams Road, Alwarpet. Open to all.
WALK: MYLAPORE'S ICONIC SNACKS SHOPS
Kalathi rose milk. Janal bajji. Well, you know of them. But there are oher food joints that Sridhar Venkataraman will take you to. You pay for the food you buy.  On Aug 31, 5 p.m. Starting point: Indian Bank on North Mada Street. Contact 97909 57208. Open to all.
WALK: ALONG KUTCHERY ROAD
Mercantile history of Mylapore.  Conducted by Madras Inherited. On Saturday, August 24, 6.30 a.m. This walk along the length of Kutchery Road will help to discover the trading establishments that existed or exist or have changed over the years. Paid event.
MUSIC
TYAGARAJA THEME CONCERTS
Senior vocalist Gayathri Girish presents twin concerts on the theme 'Sri Tyagaraja Namaste' at Tattvaloka Auditorium, Eldams Road, Alwarpet. The theme is based on the Vitanka Sthalas of Sri Somaskanda Tyagesamurti. Many of these shrines except in Tiruvarur, Tamil Nadu are not widely known. There is a multimedia presentation alongside. Open to all. August 24 and 25, 5 p.m. daily.
RTP IN CARNATIC MUSIC
Sunaadalahari, musical wing of Indira Ranganathan Trust presents 'Pallavi Utsavam', a music festival dedicated to the art of Ragam-Tanam-Pallavi singing. Lec-dems by Dr Ritha Rajan, Seetha Narayanan, R.K. Shriramkumar and K. Arunprakash. Sampradaya pallavi concerts will be presented by  Amritha Murali, V. Bharatkumar and  A. S. Murali. From  August 30 to September 1, 5 p.m. onwards. At the Indira Ranganathan Trust, C. P. Ramasamy Road, Alwarpet. ( near Nilgiris store)
MISCELLANEOUS
MADRAS FILM SOCIETY MEETS
62nd  annual celebrations of Madras Film Society. On  24 August, 6 p.m. At Sivagami Pethachi auditorium, Alwarpet. Senior artistes award will be presented to P.R. Dorai, Dhanapaul, R. K. Chitan, T. K. S.Hemalata, K. Vasantha and T. S. Anandhi. Open to all.
WORKSHOPS
FOOD
Gluten free and dairy free foods workshop. August 28, 11 a.m. – 1p.m. At Curio Play, Alwarpet. Chef Neelima Sriram. and Meenakshi, of Sharan, will share a variety of compliant recipes for a daily meal. Paid event.
 ART FOR KIDS
Culture Caravan is organising art workshop this Ganesh Chaturthi. On August 25. 10 a.m. – 1 p.m. At Utopia World, 5/2, 1st Street Abhiramapuram. For children aged 4 – 12 years. Contact 9940652836. Paid event.
PAINTING
Simitha Sundaram holds a live flower arrangement  workshop on August 24 & 25. 9 a.m. to 1 p.m. and 2 p.m. to 6 p.m. At  Aavishkaars Work Space, CIT Colony, Alwarpet. For 4 hours. Participants  should be above 15 years. They have to bring all required material. Prior registration must. Call 9940056618. Paid event
FOR SENIOR CITIZENS
Dignity Foundation hosts a workshop on 'Active Aging' for senior citizens. On Aug. 28 and 29. 10 a.m. – 12.30 p.m.  At Oppilal Music School, 54, 3rd Street, Abiramapuram.  Exercises session,  Tai Chi, talk with a doctor on foot care & footwear and ruin activities. For free registration contact – 26210363, 9840395943.
SHOPPING
ETHNIC STUFF
 Matkatus, an online store for ethnic handcrafted products is holding a sale.  Till Aug.25. 10 a.m. to 8 p.m. At C. P. Art Centre, Alwarpet. Ajrak, Pochampally  and Odisha Ikats, block prints, khadi, blouse fabrics, saris and duppattas. Contact  900076418.