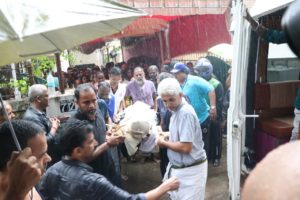 It rained through the night and into the morning on Saturday but this did not discourage scores of former and current cricketers, wellwishers and neighbours from paying their respects to V. B. Chandrasekhar, former India cricketer and later coach and commentator who took his life on August 15.
Among the mourners was former India cricketer Rahul Dravid.
The deceased's family members had arrived from abroad late Friday and the rituals were held at the Visweswarapuram residence early today.
Tributes continued to flow in for one of India's stylish batsman who had a short career wearing the India cap but ran a big record in domestic cricket. Most people who knew VB, as friends called him remained shocked at his death.