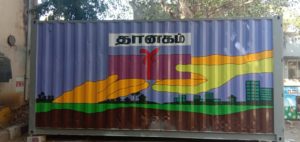 On Aug 20, Dhanagam, the donation box at the Mylapore MLA's office campus at C. P. Ramaswamy Road, Alwarpet will be reopened.
MLA R.Nataraj launched this project a few months ago with the aim of getting people to donate old and reusable items like clothes, shoes and books to the needy.
M. Kannuswamy, a Mylaporean, who works for a corporate and actively volunteers for various CSR activities in the neighbourhood has pitched in along with his friends to arrange the infrastructure (a container and racks) for the project.
Now, Kannuswamy on the suggestion of Mylapore MLA has taken charge to monitor this project that has been officially named as "Goodwill Stores."
Since its launch, many people donated a number of items here. "We were also providing the goods to the needy. But due to various reasons we could not monitor it properly. Now we have assigned a staff for this process," says Suresh, the personal assistant of the MLA.
Dhanagam is a 20 ft. high steel container. The donated items are kept on the steel racks placed inside this container. People can donate old clothes, shoes, books and other useful items like medicines and stationery here.
"We request the public to donate items in good condition so that they can be used by the needy," says Kannuswamy.
People who may want these items can select the same after scanning at the items in the racks. We are restricting people to picking up only one item per person. This way we would be able to help a large number of people from low-income groups, " he says.
Those who wish to donate may contact Kasi, office assistant at MLA Office. The needy people may also contact him from 10 a.m. to 2 p.m. (on weekdays) and pick up items at this box after making entries in a register at the Mylapore MLA office. Kannuswamy also welcomes the public to suggest ideas to improve the facility.
He says, "They can write their comments in the register kept at the MLA office so we can serve in a better way."
Dhanagam will be open for donation from 10 a.m. to 5 p.m. on all weekdays. At Mylapore MLA office, C. P. Ramaswamy Road, Alwarpet ( behind Shilpi boutique). For further details contact the MLA's office at 24663411 or Kasi at 9940502933.