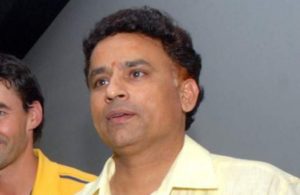 V. B. Chandrasekhar, former TN and India cricketer who resided in Mylapore passed away on Thursday evening. Early news on social media said he had a cardiac arrest but later, it was confirmed that the 57-year-old had committed suicide at home.
Mylapore police recovered the body and sent it for post mortem.
The news shocked the large cricket fraternity in the city and across India and tributes have been flowing in since late Thursday evening.
VB, as friends called him was seen as one of the finest stylish attacking opening batsman of his time and many said he was unlucky not to have represented India more than what he was called for.
He played for India in seven one-day matches and his innings of 53 runs was the highest score.
He had a sterling record in domestic cricket. In 81 first-class matches, VB totalled 4999 runs with ten centuries.
He scored 160 in the quarter final and 89 in the final when Tamil Nadu won the Ranji trophy during the 1987-88 season.
Following that, he scored a 56-ball century in the fourth innings of a Irani Trophy match.
Said C. R. Balaji of Mylapore, "Having watched him from close quarters he was impeccable in dressing and in his mannerisms. Stylish on and off the field"
After his playing career, Chandrasekar focussed on coaching and cricket commentary. He coached the Tamil Nadu side, was manager of Chennai Super Kings for the first three years and said to have been instrumental in signing up M. S. Dhoni for the CSK. He was also a national selector – from 2004 to 2006.
VB also owned the VB Chennai Veerans cricket team that played in the early years of TN Premier League. He ran a coaching academy on the fringe of the city.
He was respected for his insights into the game and he also gave locally, running a coaching centre on the campus of the Mylapore Club.
In recent times, VB was deeply involved in the career of his daughters in Carnatic music, often travelling with them on concert tours.
Besides the two daughters, his wife mourn his passing. The family's residence is at Visweswarapuram, off C. V. Raman Road / Bhaktavatsalam Road.
Photo courtesy; The New Indian Express