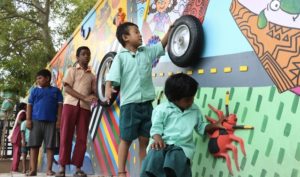 Tamil Nadu government has formally appreciated Chennai Corporation for the Infinity Park in San Thome which has facilities for less-abled people to also enjoy the outdoors and indulge in simple creative activities.
Chief minister Edappadi Palaniswami gave a certificate of appreciation to the civic body at the Independence Day flag hoisting and celebration event held at the ramparts at Fort St George on August 15 morning.
Infinity Park, executed under the Smart City project took time to ideate but was executed smoothly and is now managed well.
The Disability Rights Alliance, Kilikili of Bangalore and Mylapore-based architect Kavitha Selvaraj were key partners in this project.
Appaswamy Real Estates maintains the park while some 5 residents volunteer to keep an eye on the space to ensure people do not vandalise it.
But more volunteers are required here.
The success of Infinity Park, located neat to the Registration Office and behind the local Amma Unavagam is now encouraging civic-conscious people in other cities to have a similar one in their city.