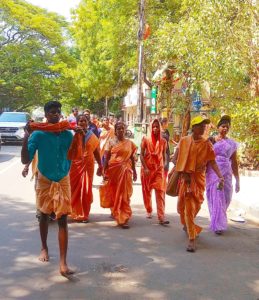 On August 29, hundreds of pilgrims from various parts of the city took the main roads in Santhome and R.A.Puram to attend the flag hoisting and Mass, that marks the beginning of the annual feast of Mother Mary at Annai Vailankanni Shrine in Besant Nagar.
The pilgrims who had vowed to walk to the shrine were on a padayatra, and others used private vehicles to reach the Shrine.
Post noon, they grew in number. And hence the roads from Mylapore leading to Adyar  – Kamarajar Salai, Santhome High Road, C.P.Ramaswamy Road, R.K.Mutt Road were affected by traffic jams till about 5 p.m.
At some places, the traffic congestion continued even after 6 p.m. as pilgrims returned to their homes after visiting the Shrine.
Chennai traffic police along with police officers from other departments regulated the traffic at these zones. They barricaded parts of Kamarajar Salai, Santhome High Road, and Thiru-vi-ka Bridge to prevent the pilgrims from entering the middle of the main roads.
Hawkers lined at some pavements along the route carried out by these pilgrims. They sold toys and other playthings that attracted the children who were on a pilgrimage.
On the way, the pilgrims took short breaks on the pavements and at public spaces. Many donors offered tea, vegetable rice, water, and buttermilk at pandals erected off these roads. However, heaps of used plastic water bottles, paper cups and plates were lying on the roadsides.
Scenes of parents carrying their children on their shoulders, mothers feeding their young babies, saffron-clad pilgrims walking with the flag of Annai Vailankanni and people walking barefoot were often noticeable on these routes.