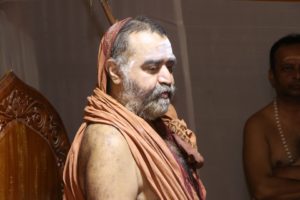 Sri Vijayendra Saraswathi Swamigal, the head of the Kanchi Kamakoti Peetam at Kanchipuram, is observing his Chaturmasya vratam at Sri Asthika Samajam, Alwarpet this year.
S. Balaji, the secretary of the Samajam says, "He will be here till Sept 14. Several events have been organised in the evening at the samajam. Till Aug 8, Sri Krishna Premi Swamigal will give an upanyasam on the Bhagavadam. During the first week of September, from Sept 7-9, 120 agnihotris from all over the country will congregate at the samajam to talk about and give a demonstration on Agnihotram, an ancient sacred fire ritual".
He continues, "Devotees can see the Swamigal in the morning from 7.30 to 9 a.m. and in the evening from 4.30 to 7.30 p.m. These timings however may vary depending on the Swamigal's schedule for the day. Devotees are requested to call Sundaresa Iyer, the manager of Kanchi Kamakoti Peetam at 9840833575 and confirm the Swamigal's availibility before dropping in".
The Samajam is located at 2, Venus Colony, First Street, Alwarpet.