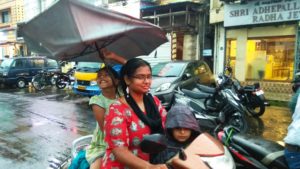 On August 30, Mylapore received heavy rain accompanied by strong winds and rolls of thunder.
As the rain steadily increased after 5 p.m. office-goers who were returning home got affected. At North Mada Street, Mylapore people took shelter at the shops.
Also, the vendors who had spread the Vinayaka idols for sale on this street for the upcoming Vinayaka Chaturti celebration had to close their business for Friday.
As the steady rain continued for close to an hour, ankle-high level of rainwater was seen on the streets in Mylapore – at the junction of North Mada Street and East Mada Street, on the streets that lead from R. K. Mutt Road in Mandaveli, on D.G.S.Dinakaran Salai and on Durgabhai Deshmukh road.
The water later ran off into drains. These scenes indicate to the need to sink more RWH pits on road sides.
But in some places it was evident that rainwater harvesting systems were not in place and water was wasted.
One glaring example was of rainwater from the rooftop of all the shops alongside Sri Kapaleeswarar Temple, Mylapore.  Huge volumes of water gushed from the rooftops on to the mada street.