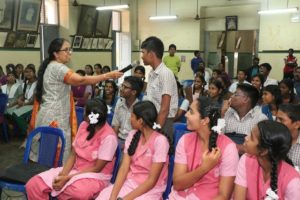 MISCELLANEOUS
QUIZ ON MADRAS. FOR SCHOOLS.
Aug.31. 2 p.m. At Mylapore MLA office campus, C. P. Ramaswamy Road, Alwarpet.
Mylapore Times conducts a quiz in Thamizh on Madras for Thamizh medium schools in the city to mark Madras Day 2019. Quiz by R. Revathi. Open to school teams only. ( Photo used here is of a previous quiz).
CD, BOOK RELEASE :  ON MAHAPERIYAVA
Sept 1. 5.30 p.m. At  R. R. Sabha, Mylapore.
An album of Kanchi Mahaperiyava's songs titled 'Naadhabrahman' composed by Visalakshi Natarajan will released by vocalist Aruna Sairam. Writer Tiruppur Krishnan will release books authored by G. R. Mama. This will be followed by a musical play by Dr. Ambika Kameshwar's RASA Kalaikkuzhu. 
FOR SENIORS: CHANTING, MUSIC, FELLOWSHIP
On Sept. 4, 5 and 6. 11 a.m. to 12.30 p.m. At Oppilal Music School, 54, 3rd Street, Abiramapuram.
The sessions are to be on simple, spoken Hindi and choir practice  (Sept 4). Bhagavad Gita study (Sept 5). Chair exercise for senior citizens (Sept 6).
MUSIC
DIKSHITAR'S SONGS
Sept. 1. 9:30 am to 12:30 pm. At Mylapore Fine Arts Club.
Musicians and students of music will offer homage to composer Muthuswamy  Dikshitar – with a group rendition of the Kamalamba Navavarana kritis by Cherthala Renganatha Sharma and disciples accompanied by Sayee Rakshit (violin) and K Arun Prakash (mridangam). Guruguhaamrta and Mylapore Fine Arts Club are hosts.
LEC-DEM ON RAGAS
Sept 1. 10 a.m. At  Arkay Centre, Luz.
Music Forum's Sangeetha Lakshana Lakshya series will feature a lec-dem themed 'Wonderland of ragas – Poorvikalyani' by Dr. Radha Bhaskar. Open to all.
WORKSHOPS
MAKE CLAY GANESHA IDOLS
Aug 31, Sept 1. 10 a.m. – 1 p.m. At Vel's Kinder Kids at Ranga Lane.
Clay Ganesha-making workshop for youngsters – they will be taught to make images of the god from locally-available clay. Pre-registration mandatory. Paid event. Call 95000 50776 / 88841 00232.
 PEBBLE PILLAIYAR
On Aug.30 & Sept.1. 9 a.m. to 6 p.m.  At Aavishkaars Work Space, CIT Colony, Alwarpet.
The medium for the workshop will be acrylic paint. Pebbles, photos and templates will be provided.  Other materials must be brought by the participants. Prior registration must. Paid event. Contact 9940056618.
CLAY MODELLING
August 31. 4 p.m.  At Wandering Artist, R. A. Puram
 The two-hour interactive session will include clay modelling, hands on wheels and introduction to ceramics. Contact Call 9840111425.
SHOPPING
SARIS, KURTAS
Sept. 3 to 5. At C. P. Art Centre, Eldams Road.
Sale of Kanchipuram silk & cotton sarees, women's  kurtas, fancy jewellery, Doria and fancy dupattas. Through the day.
SARIS, DHOTIS
Sept.1 – 11. At  Rangachari Cloth Store. Luz Church Road, Mylapore.
Rangachari's hosts a festival discount sale of a wide variety of  silk and cotton sarees, dress materials, shirts, dhotis at its store. Ph: 24994343, 24994545.
ENTERTAINMENT
STANDUP COMEDY
Aug.31. 8  p.m. At Counter Culture, Sriram Nagar, Alwarpet. Comedians speak in different languages to entertain audience with their 'local' jokes.