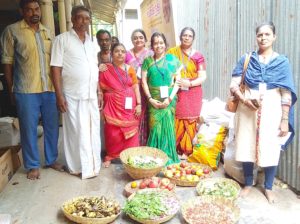 Recently, the head of the Sri Kanchi Kamakoti Peetam Sri Vijayendra Saraswathi Swamigal arrived at Sri Ashtika Samajam in Alwarpet for his Chaturmasya vratam.
And the Samajam has been a busy place ever since. It is also the venue for events. The people here also practice waste segregation and this has been vital the past days since the swamigal's presence has led to a big stream of visitors.
This segregation has been made possible by the joint effort of Chennai Corporation's local workers, residents of Venus Colony, the team at Ashtika Samajam and over a hundred people from across India who came here and lent a hand.
Vidya Balakrishnan, a resident of Aashiana Apartments in Venus Colony has taken charge of this process. Since the Swamigal arrived, Vidya says over 200 devotees have been dropping in to see him on ordinary days and over 600 are coming on special days.
The Samajam cooks prasadam and lunch for all the devotees and serves them after the pooja. Says Vidya,"Every day, at least 600 to 700 kilos of mostly biodegradable waste is generated here. This includes banana leaves, vegetable and fruit peels, food waste and flowers."
Vidya, aware of the need to treat the waste got  her friends  to address the issue. "We put out messages through WhatsApp and Facebook. We got over 150 volunteers to segregate biodegradable waste and perform various other activities at the Samajam," says Vidya, who is an active member in promoting the zero-waste policy in her colony.
Separate bins are kept at the Samajam to collect biodegradable waste and for donnai and dried mango leaves.
Since people drop in through the day, volunteers say they work in five shifts from 6 a.m. to 10 p.m. They collect the waste in different baskets and empty them in the corresponding bins.
Vidya says that Udhay, a RamKy conservancy worker then collects the segregated waste. Says Muthulakshmi, a volunteer, "Udhay comes at least four or five times a day to collect the waste."
Manjula, animator of ward 118 says the segregated waste goes to the composting centre of their civic ward. "Though these volunteers don't get the opportunity to see the swamigal from close they are very devoted in doing the service," says Vidya.
Volunteers from Hyderabad, Banglore, Pune and Delhi are lend their hands to this civic work besides directing traffic outside the Samajam besides taking part in activities at this place.
They would be continuing this work till (September 15), that is till the Swamigal's stay here.
The lead for this story came from Balasubramaniam of TAKSRA. You too can share story leads or details with this newspaper.