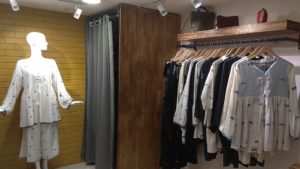 Dvaa – Tales Untold, a clothing line that specialises in Jamdani clothes has recently opened at C. P. Ramaswamy Road, Alwarpet.
Chennai-based couple Seethai and Prem are the promoters of this business. They say they opened the store with the aim of reviving the traditional art of Jamdani weaving and to provide employment opportunities to weavers who practice this technique traditionally.
"I design the clothes with modern cuts, motifs, hues, and silhouettes in such a way that they stand out in our traditional handwoven Jamdani," says Seethai, a fashion designer who has graduated from the National Institute of Fashion Technology (NIFT), Chennai. Her husband Prem handles the marketing and back-end processing of the business.
The duo say that the fabric is sourced from traditional weavers of Bengal. Once Seethai finalises the designs, the dresses are made at their manufacturing unit in Koyembedu.
So what does 'Tales Untold' stand for?
Says Prem, "We are also keen to tell the stories of these artisans and of the stages of weaving Jamdani. We intend to frame their stories using pictures and exhibit them at our store."
Kurtis, short tops, pants made of Khadi cotton and handwoven Jamdani are available here. Also, ajrak, shibori, and dobu kurtis are on sale. The price of a Jamdani top starts from Rs.2800.
This store is at Chennai Corporation Complex, C. P. Ramaswamy Road, Alwarpet. Open from 10 a.m. to 8 p.m. on all days. Ph:084549 13545.