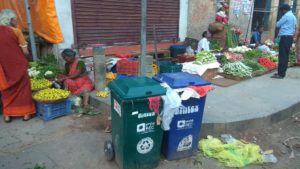 Following the zero waste campaign, the local units of Chennai Corporation constructed compost structures at their backyard.
Now, ward 124 of Chennai Corporation has arranged a row of cement rings for this purpose. It is located at its space, below the MRTS railway track on Kutchery Road, Mylapore.
Mahadevan, the Conservancy Inspector of this ward says, "The RamKy Conservancy workers are using five tricycles to collect segregated waste from all streets in our ward. These include Kutchery Road, Mundagakanni Amman Kovil Street, South Mada Street besides others."
The workers of this ward have erected a set of 14 such compost structures here."To ease the composting process, we have constructed in such a way that the biodegradable waste collected on a given day will be put in the same ring only after 15 days. By the time, the waste in that ring would have started composting," he says.
However, the hawkers of South Mada Street are yet to segregate waste. While some of them say they are unaware of the new system others are unwilling to segregate waste.
Says a hawker, who did not want to mention his name, "I know only one kind of waste, and I will put it in a bin if it's near to my shop. If that is full I will dump it on the ground," he says.
Mahadevan says that "It has been very difficult to make these hawkers understand the importance of segregation. Hence, if the segregation is not proper, RamKy Conservancy workers and other staff at our ward do the segregation before putting them in the compost structures."
To facilitate the collection of segregated waste the Corporation workers also placed separate bins for wet and dry waste collection in between every four shops here. However, all kinds of waste are seen in both these bins. "Also since the bins are smaller, the cows roaming here conveniently open the lid of the bins and eat the vegetable waste. This is a threat for the shoppers," says Dandapani, a hawker who says he follows the segregation process.
The bins have also created other issues for these hawkers. Says Dakshayini, a hawker, "Since the bins are kept near my shop it's very smelly, and I'm unable to sit here. The customers also refuse to stop by if there is a bad smell." Due to this, she says, the hawker who was next to her had to shift.
As a result, to avoid the bad smell, at their shops most of the hawkers are putting all of their waste, including plastic, paper and vegetable waste in the Corporation's bins kept at street corners. And some are dumping it on the ground near these bins.