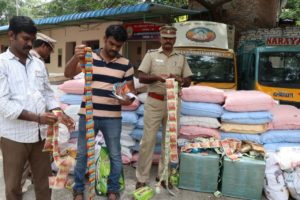 Two van-loads of banned gutka packets to be distributed at local shops were detained and men in the vans arrested this Friday noon by Abhiramapuram police.
The police who were on patrol on Kamaraj Salai stopped the vans and located the substance that is now banned but accessed by people at shops fairly easily.
Police said the stuff weighed about 1.8 tons, all of small sachets that are sold at local stores.
The vans and the goods were moved to the police campus off Greenways Road and a case registered.