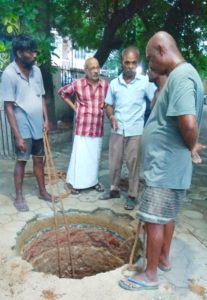 After realizing the importance of rainwater harvesting (RWH), now the residents of Aditya Ashwin Apartments in Ranga Road, Abiramapuram are constructing recharge wells at their complex.
Says V.Venugopalan, a resident, "We underwent an acute water shortage this year. During that period we understood that the rooftop RWH that was done at our complex years ago was not sufficient to tap rainwater to the maximum extent. Hence, we decided to construct six recharge wells inside our complex."
Venugopalan says that the construction of a recharge well requires approximately Rs 22,000. The 37 families at our complex have together contributed towards this, he says.
"The outlets from our old RWH system will also be connected to these recharge wells. And water collected from the wells will also be used for borewell recharge," he says.