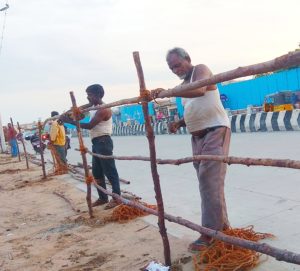 Elaborate arrangements are on at Pattinapakkam for the mass immersion of Vinayaka idols that is set to take place this weekend.
The Mylapore and Foreshore Estate Police, besides others, will manage the security arrangements here.
From Monday, some people started the immersing the idols after the Vinayaka Chaturthi rituals. But this weekend the police say they expect immersion of  more than 1500 idols here.
To manage the crowd better, two immersion points – one for idols with less than 5 ft height and another for those with more than 5 ft height are fixed. At both these locations; a small road is laid to ease the movement of people/vehicles till the immersion points.
"Two cranes will be brought here to immerse large idols. In addition, three trolleys will be provided to people to carry the idols that cannot be carried manually," says a police officer of Foreshore Estate police station.
On September 5, watchtowers and barricades were constructed near these points.
The immersion point for idols less than 5 ft is located a few yards away from the immersion point (for larger idols) that is located opposite Foreshore Estate bus terminus.