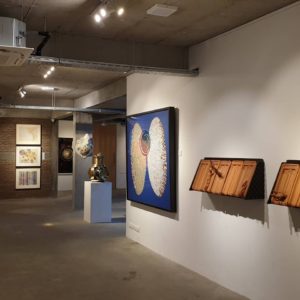 ART
INDIA'S BEST ARTISTS
On till October 15. 11 a.m. to 7 p.m. At  Ashvita Art Gallery,  Second Street, Dr. Radhakrishnan Salai, Mylapore.
Savage Nobles is an exhibition that showcases paintings and sculptures by India's leading and globally recognised contemporary artists  Subodh Gupta, Bharati Kher, Jitish Kallat, Thukral and L. N. Tallur. Contact  9941016377.
SHOBA'S 'FREE FLOW' ARTWORKS
On till Sept. 30. 10.30 a.m. to 9 p.m.  At Wandering Artist, 6th Main Road, R. A. Puram.
Luz Avenue-based artist Dr. Shoba Ramakrishnan is exhibiting her new works. The show is open through the day. Dr. Shoba who was the HoD of chemistry at WCC, Chennai has been painting for many years now and has had a few exhibitions. Her current works are what she calls 'Free Flow Art', "unplanned pieces of art that get created as I set pen on paper."
MISCELLANEOUS
ARTS DIPLOMA / INFO SESSION
September 27. 7 p.m. At Hotel Raintree, St. Marys Road.
Alan Philips, president of Van Arts and Gautam Modkar regional admissions advisor, India will hold a free info session about Van Arts' one-year professional diploma arts programme. Open to all. Contact 65479399647.
BOOK ON 'CARTOON ART'
Sept. 22. 10 a.m. At Russian Cultural Centre, Kasturi Rangan Road.
'Cartoon Art' a book by late cartoonist Rahnu, a Mylaporean will be released by Rahnu Cartoon Research and Education Trust. Contact 9444248579 /8778999501.
VINTAGE SIVAJI FILM
Sept. 22. 6 p.m. At Russian Cultural Centre, Alwarpet
NTFAnS will screen the film 'Thiruda', the Sivaji Ganesan-starrer to celebrate its golden jubilee. Crew members and children associated with the movie are expected to attend the show.  Call  9283195944.
AWARD FOR VYJAYANTIMALA
Sept. 21. 10.30 a.m. C. P. Ramaswami Aiyar Foundation, Eldams Road.
TN governor Banwarilal Purohit confers the Saraswathi Puraskaram award on Bharatanatyam dancer and yesteryear actor, Dr. Vyjayantimala Bali. There will be music concerts at 11.45 a.m. ( veena concert) and at 6 p.m. ( features R K Shriram Kumar, Nisha Rajagopal, Amritha Murali, Bharati Ramasubban) Open to all.
MUSIC
PAPANASAM SIVAN'S MUSIC
Sept. 27 to 30.  6.15 p.m. At Ragasudha Hall, Luz.
Papanasam Sivan Rasikar Sangam will celebrate  music composer Papanasam Sivan's 129th anniversary celebrations for four days. Vishnudev Nambudiri, Papanasam Ashok Ramani, Vignesh Ishwar and Palghat Ramprasad will present concerts. Open to all.
YOUTH ON STAGE
Sept. 21 to 29.  4.15 p.m onwards. At Arkay Centre, Luz.
Yuva Sangeeth is a nine-day music festival will be hosted by Parampara and features young talents. There will be two concerts daily at 4.15 p.m. and at 6.15 p.m.
SHOPPING
COTTONS
Sept.20 – 22. At C. P. Art Centre,  Eldams Road, Alwarpet.                                                                                                 Hamsa's Boutique holds a sale of cotton textiles – block printed, embroidered, digital printed dresses. Contact  9843322110. Open through the day.
EATING OUT
PANDYA NADU  SPECIALS
On till Sept. 22. At Hotel Savera.
Traditional dishes best known in Tamil Nadu's Theni, Madurai, Sivaganga, Ramanathapuram, Virudhunagar, Thoothukudi and Kanyakumari districts are on the menu at the hotel's Malgudi restaurant. Lunch and dinner. For reservations contact 9710947361.