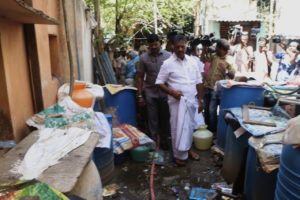 Residents in the tiny apartments, some 200 qt ft in area, built in late 1980s and slowly coming apart in Valeeswaran Thotam in R. A. Puram have told the deputy chief minister, O. Paneerselvam who went around a small area of this colony on Friday morning that they have two issues to highlight.
They are happy the state is going to demolish and rebuild all, old blocks built under the state's Slum Clearance Board watch. But they told Pannerselvam not to build beyond three floors although the plan is for a 400 sq ft apartment for each family because many elders will not be able to access the houses far above.
Panner Selvan spent some 45 minutes here, talking to residents and getting feedback. There are over ten blocks here.
Residents here with valid documents will be given a fixed sum of cash to meet their rentals while the construction is on – it may take 18 months.
Similar plans are in place in similar areas in Mylapore – Kapali Thotam and  Visalakshi Thotam being two of them.