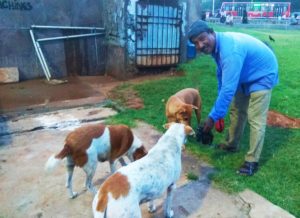 This man feeds stray dogs at Marina, behind the Gandhi Statue.
A few days ago, when he walked with two packets of chicken, a group of dogs quickly gathered near him to have the food.
Poomani, is a resident of Dr. Radhakrishnan Salai, Mylapore. He says he works as a sweeper for the Chennai Corporation.
Poomani says, "I like dogs. I have one at my house too. When I come here (Marina) for work, I feel pity for these homeless dogs. So I regularly buy chicken pieces and bones to feed them."
"It costs me Rs 1000 per month. Sometimes, when I don't have enough money I give them juice, or whatever little snack I have," says the 55-year-old.