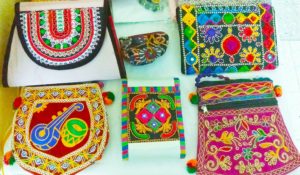 Eco-friendly gifts for Navarathri are available for sale at NGO Sevalaya's city office at P.S.Sivaswamy Salai, Mylapore.
Cloth bags, pouches, and Rajasthani style sling bags are some of the eco-friendly options available for sale. In addition, pooja articles, bangles, and earrings made of colorful thread are up for sale.
Says R.Ganesh, associate vice-president of Sevalaya, "Thamboolam bags made of paper will also arrive soon."
Besides this, the NGO is hosting an exhibition and sale of kolu dolls at their premises. It opens tomorrow and will be on till Oct 9.
The proceeds from the sales, Ganesh says will go towards the education and welfare of the people at their shelter located at a village near Thiruninravur.
A cloth bag is priced at Rs. 150. At 54, P.S. Sivasamy Salai, Kattukoil Garden, Mylapore. Timings: 9.30 a.m. to 5.30 p.m.