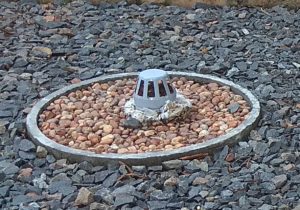 Residents of Ram Nivas Apartment at Dr.Ranga Road in Mylapore are enhancing the rainwater harvesting (RWH) structure at their premises.
This complex with 16 families already has a proper RWH system in place. Two years ago, Parvathy, a resident says they revived an old well at their backyard. And diverted the rainwater from the 4000 sq ft rooftop to this well after passing it through a filter chamber.
Now, in addition to recharge wells, they are constructing collection chambers to improve the filtration of rainwater.
"Since a long time, we were searching for a suitable RWH model that would filter both large and small-sized particles, including plastic bags and muck that come with rainwater. Most often, we have seen that they also enter the recharge well polluting the groundwater. After a lot of research, this result seemed achievable when we found this method in a Tamizh newspaper," says Nagalatha, a resident of this complex.
At a cost of Rs. 20,000 per recharge well, the residents are constructing two recharge wells. And four collection chambers – two for each recharge well.
In this technique, water is first led to the collection chamber."The minute dust particles will get sedimented here. After that, it goes to the recharge well where further filtration takes place," she says.
A recharge well is constructed at a depth of 5 ft. And the residents say a 4-inch PVC pipe will be sunk at the middle of the recharge well (as shown in picture) at a depth of 13 ft.
The opening of the pipe will have a cap, and a mesh filter with slits to take the water in. Around the pipe pebbles of different sizes will be filled throughout the well.
"Most of the impurities will get filtered as the water passes through the layers. This method will also require less maintenance, she says.
To know more details about this RWH technique contact Nagalatha at 9841672632 or their plumber Vijayakumar at 9840467996.
The picture is a representation of the RWH model that these residents are constructing. It is taken at the residence of Santhanam at D'Silva Road who has constructed a similar model.