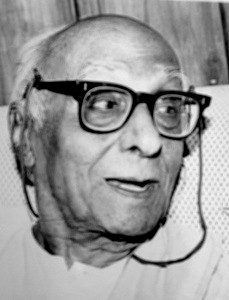 MISCELLANEOUS
TALK ON EDITOR A. N. SIVARAMAN
Sept. 28. 6 p.m. At Srinivasa Gandhi Nilaiyam, Ambujammal Street, Alwarpet. Keezhambur Sankarasubramanian, editor, Kalaimagal magazine will speak on 'A. N. Sivaraman, the multifaceted personality' ( Photo featured here). Sivaraman was editor of Dina Mani newspaper for many years. Hosted by Ilakkiach Chinthanai and Kuvikam Ilakkiyavaasal. Contact 9791069435.
ARTIST MANOHAR DEVADAS SPEAKS
Sept. 29. 8.30 a.m. At Counter Culture Comedy Club, Sriram Nagar, Alwarpet. Artist-writer Manohar Devadas of San Thome speaks on how he found his muse  and how dedication and perseverance  helped him face the most challenging situations in  life, drawing and painting despite his fading tunnel vision. The event is called Creative Mornings.  Open to all. Register at 8220832419.
BHARATHIDASAN VERSES IN DANCE
Oct.2. 6.30 p.m. Narada Gana Sabha, Alwarpet
'Paavendharin Guhamayam' focuses on Bharathidasan's poetry adapated to Bharathanatyam and curated by Natyarangam Trust. Dancers Abhayakaram Krishnan and Preetha Prabhudhas  will perform.
CLOWNS, MAGIC & FUN
Sept.28. At Curio Play.  Abhiramapuram. 4.30 p.m. onwards. Evam will present 'Clown Chow' directed by John Pradeep JL. This  program will feature clowns, music, magic and fun. Paid event. Contact 9840236367.
FOR CHILDREN
DASARA CAMP
Sept 30.  to  Oct.4. 10 a.m. to 1 p.m. At  14, Sai Bhavanam, 2nd Link Street. C. I. T. Colony.
Dwarakamai Educational Service Centre conducts a Dasara camp for children in the age group 3 – 12 years. Drawing, colouring, Origami, Tamil rhymes, bhajans and  physical exercises will be taught. Group games will be conducted. Contact for registration –  95001 44940.
.WORKSHOP ON ARTS
 Sept. 30.10.30 p.m. – 1.30 p.m.  At 46, Kasturi Ranga Road, Alwarpet, Parampara conducts a workshop for children in the age group 6 – 12 years. Story-telling, arts and crafts and related activities will be held. Register at 9940072449 / 24991516.
STORY & READING SESSION
Sept.28. At Tulika book store. 305, Manickam Avenue, T. T. K. Road, Alwarpet. 10.30 a.m.  Author Prabha Ram and Arthi Anand Navaneeth will introduce the book Can you? for children aged 4 and above. The session will have a fun story-telling and reading session. Illustrator of the book, Ashok Rajagopalan will participate. Open to all. Contact 9840909228.
REVIEW BOOKS
Sept.28. At Wandering Artist. R. A. Puram. 4 p.m. onwards. Children aged 7 – 14 years can enjoy a  session of book reading and reviewing with  Tulika publisher. Contact 9840111425.
MUSIC
PARK  KUTCHERI
Oct. 4 – 6.  7 a.m. daily. At Nageswarar Rao Park, Luz. Sundaram Finance hosts a three-day 'Mikeless Kutcheri in the Park' series as a part of Navarathri celebrations. Arvind Balaji (Oct. 4), Vibha Krishnakumar (Oct 5), and K. Ramcharan (Oct. 6) will perform at the Chess Sqauare area of the park – all teens on stage.
CONCERTS BY YOUNG ARTISTES
Sept. 29 – Oct. 7. At Kartik Rajagopal Hall, R. A. Puram. Kartik Fine Arts hosts Navarathri Carnatic music festival featuring young artistes. There will be two concerts daily, at 5.30 p.m. and 7 p.m.
EATING OUT
BIRIYANI  SPECIAL
On till  Oct.23. At Cream Centre, R . A. Puram A biriyani festival is on at this restaurant. The biryani is prepared with Basmati rice and rich aromatic spices.Vegetarian. Contact 42815777.
SICHUWAN CUISINE
On till Sept.29. At Pumpkin Tales, 37/20, Bheemanna Garden Street, Alwarpet. Pumpkin Tales' short stories  is a  unique pop-up dining concept that celebrates one new global cuisine for a weekend. This weekend  it celebrates  Sichuan cuisine of China. Open for lunch –  from noon – 3 p.m. and for dinner, 6.30 to 10.30 p.m. Call 2499 5510.
SHOPPING
KOLU CRAFTS
On till Sept.30. At C. P. Art Centre Eldams Road, Alwarpet.  10 a.m. – 9 p.m. At Shakuntala Art Gallery, varieties of  kolu dolls like  Kondapalli, Chennapatna and those made using clay, papier mache and terracotta are on sale here. Discount of 25% is offered. Contact 9383740065 / 7358317050.
CLOTHES, ACCESSORIES FOR TODDLERS
On till Oct. 5. At 29, C. P. Ramaswamy Road, Alwarpet. Samasta  boutique holds a pop-up of clothes and accessories for newborns, toddlers and children. Clothes, gift sets, picture cards and hair accessories. Contact 9840342842.