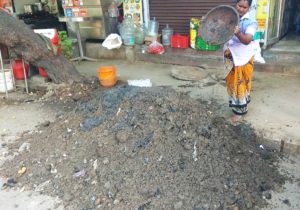 Staff of Chennai Corporation have started to de-silt the stormwater drains in Mylapore. This is done to ensure that rain water does not stagnate on the roads.
They said these are pre-monsoon preparation works.
The past few days, contract workers have been removing silt from the drains of Venkatesa Agraharam Road near Saibaba temple.
Though the civic officials say they plan to divert the water to the nearby recharge wells that are under construction now, at most places the provision is only provided for the rainwater to empty into the canal. Clearly, rainwater is not being fully tapped here.
Mounds of mud and waste are seen dumped on this busy road. Workers say it would be cleared once they finish de-silting work. Similar work is on at many other parts of the neighbourhood.
(( )) RAINWATER HARVESTING taking place in your area? Tell us the story – mytimesedit@gmail.com