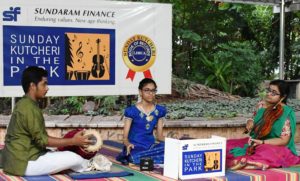 As part of the monthly Sunday Kutcheri in the Park organised by Sundaram Finance, 13 year old N. Ananya presented a one hour 'mikeless' kutcheri on a cloudy, pleasant Sunday morning ( Sept.1) at the Nageswara Rao Park, Luz.
Ananya, who is learning music from guru Indira Raghavan, was accompanied on the violin by Parur
M. K. Ananthalakshmi and on the mridangam by S. Anirudh.
Applauded by a small, informal audience comprising of morning park walkers and kutcheri regulars,
Ananya presented compositions that included Thyagaraja's saadhinchane (Aaarabhi/Adi) and
marukelara (Jayanthashree/Adi), Muthuswamy Dikshithar's ramachandram bhavayami
(Vasantha / Rupakam) and Papanasam Sivan's Gajavadhana Karuna Sadhana (Sree Ranjani/Adi), Naan Oru Vilayaattu Bommayaa (Navarasa Kaanada/Adi) and Sri Rama Jayamangalam (Suruti/Adi)
C. Muralidharan, Sr. GM, Sundaram Finance presented certificates and mementos to the artistes.
Launched in February 2006, the idea of the Sunday Kutcheri in the Park, that takes place on the first
Sunday of every month, is to provide opportunities to budding talent aged below 15 years to
present in front of an informal park audience.
Sundaram Finance conducts auditions to select the artistes to present the Mikeless Kutcheri. For
details, email: sundaykutcheri@sundaramfinance.in