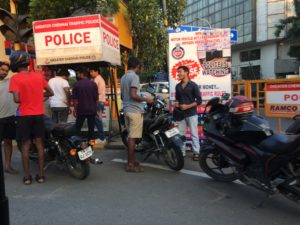 Two-wheeler riders are among the majority who are being stopped and checked by traffic police.
If there is one place in the Mylapore area to witness the severity of the checks, the traffic island at the junction of R. K. Mutt Road-Durgabai Deshmukh Road alongside the public playground.
On Saturday evening, police men and women, some drawn from the law and order division kept waving down two-wheeler riders at the police booth to be checked and challaned if they had violated the rules.
While most wore helmets, pillion riders, including women did not.
Police have intensified checks following plans to introduce new fines on traffic rule violations. For local police, it is much easy to check two-wheeler riders than drivers of cars.