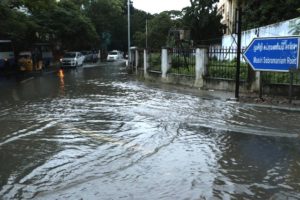 Thursday's steady rains may have been welcome but it also showed up how much of water is not being tapped.
In many streets and roads, water stagnated long because the drains were blocked.
Elsewhere, water filters and soak pits sunk at streetsides to tap floodwater did not function because muck blocked the flow.
Mylapore Times photographer Madhan Kumar shot pictures of water flooded on Luz Avenue alongside Nageswara Rao Park, Luz. A resident later said she was asking the local GCC official to sink pits to tap the water.
Rainwater had also stagnated on Musiri Subramaniam Road and further up on the road alongside Vivekananda College. Similar was the condition of Indrani Ammal Street, Pattammal Street and Vinayagam Street in Mandaveli.
The post-rain check also showed up the need to set right soak pits and water filters constructed in the streets to tap rainwater.
The cement filter in Jeth Nagar near Mandaveli MRTS station was tilted and did not help channel the water while the one on Abiramapuram 1st Street was chocked by waste and debris.